Awardees
---
Application Criteria
Internationally recognized scientist
Research activities must be related to the CRC 1182 metaorganism research.
Visit of the CRC 1182 should be between one week and a maximum of 2 month.
Requests for Awardees
An intense training aspect for early career researchers of the CRC 1182 has to be included in this stay.
A lecture open to the general public to increase visibility of the CRC 1182 has to be given.
Evaluation and Selection
Evaluation by members of the Scientific Advisory Board (SAB)
Final decision by the Steering Committee members of the CRC 1182
The Karl August Möbius Fellowship will be handed to the awardee within the scope of her/his open lecture at Kiel University.
Submission
Potential awardees have to be proposed to the CRC 1182 office to office@metaorganism-research.com.
* Funding can only be used for CRC 1182 related projects and won't be transmitted directly to the awardee.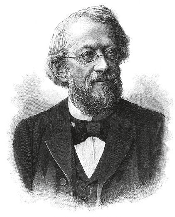 Karl August Möbius,
Discoverer of the biocenosis concept (1877)