Prof. Dr. Katharina Riedel (University of Greifswald)
It is my great pleasure and honour to invite you next Thursday November 19 2020 at 5:30 pm to a CRC 1182 seminar given by Katharina Riedel, University of Greifswald entitled "Metaproteomic approaches in infection biology and microbial ecoplogy".
Katharina Riedel is an expert in analyzing microbial communities in terrestric and aquatic environments by metaproteomics. She also is developing novel bioinformatic tools to analyze, integrate and vizualize complex omics-datasets.
Katharina Riedel was member of the panel of referees reviewing our CRC 1182 applications in 2015 and 2019. She is member of the Scientific Advisory Boards of Kiel Life Science (KLS). She currently is Vice-Rector of Greifswald University; and she will be the new Rector of Greifswald University starting in April 2021.
The lecture given by Katharina Riedel is part of the online Event "KLS in Pandemic times". You are welcome to join the zoom event.
Register in advance for this Zoom meeting:
https://us02web.zoom.us/webinar/register/WN_7RKiX7VdSM2MWZPG6xAIoQ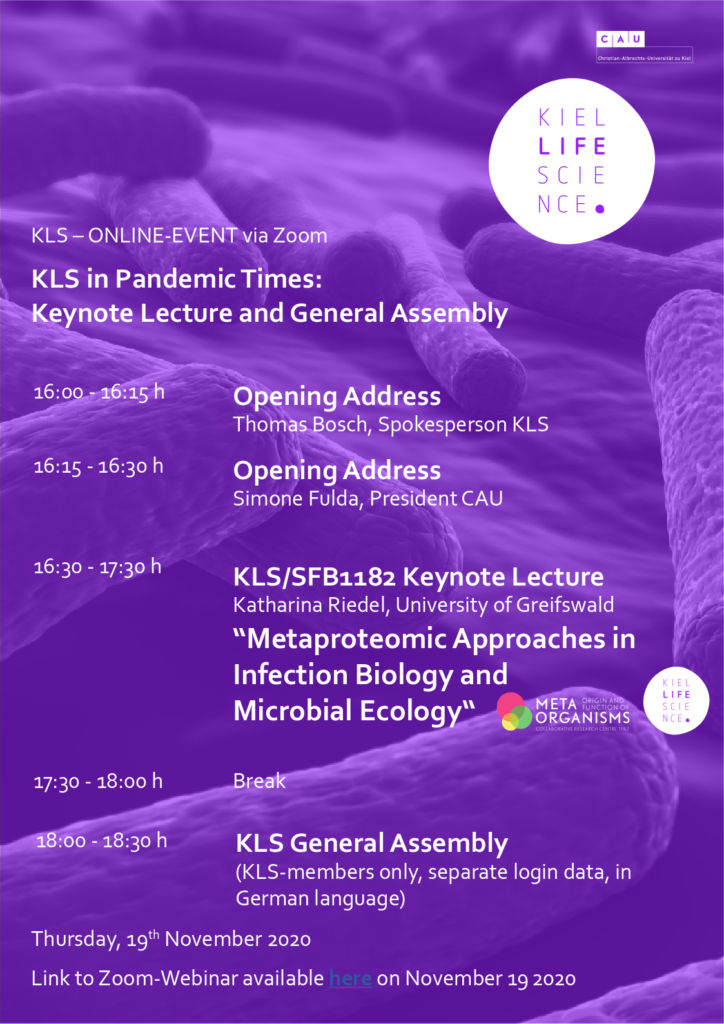 Who
Prof. Dr. Katharina Riedel (University of Greifswald)
When
Thursday
November 19th, 2020
16:30